Democrats only want to 'use' DACA, not solve it
via The Washington Examiner by Daniel Chaitin
President Trump said late Saturday that Democrats have no appetite to create a solution for so-called "Dreamers," but rather wish only to "use" immigration for political advantage.
By comparison, the president said Republicans are on board to fix a "long time terrible problem."
"I have offered DACA a wonderful deal, including a doubling in the number of recipients & a twelve year pathway to citizenship, for two reasons: (1) Because the Republicans want to fix a long time terrible problem," he tweeted. "(2) To show that Democrats do not want to solve DACA, only use it!"
The White House revealed last week details of its proposal to shield the 1.8 million young undocumented immigrants protected by the Deferred Action for Childhood Arrivals program, which will expire in March. Protecting DACA recipients had been a sticking point for Democrats and some Republicans in the government spending fight that led to a brief shutdown earlier this month. An agreement to end the shutdown was only reached in the Senate when Senate Majority Leader Mitch McConnell, R-Ky., promised to legislation to the floor for Dreamers by Feb. 8, when the stopgap funding they voted in favor of runs out.
Trump's proposal asks for tough concessions from Democrats, as it would not only shore up border security, including funding for a wall along the U.S.-Mexico border, but also reduce legal immigration due to changes to the lottery program and new limits on family-based legal immigration.
Senate Minority Leader Chuck Schumer, who during the spending fight claimed to have offered Democratic support for border wall funding in exchange for DACA protections, but later retracted it when Trump reneged, said the White House proposal would be detrimental to the immigration system.
The complete story here > Trump: Democrats only want to 'use' DACA, not solve it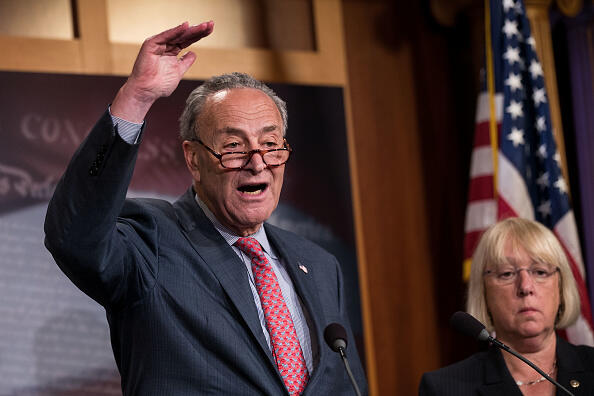 The Jay Weber Show
Jay Weber knows what you want to talk about. His show examines the big issues, trends, and events at all levels -- local, state, and national -- from a strong conservative perspective.
Read more