Dems' new pitch to voters: A 'Better Deal'
via Politico by ELANA SCHOR and HEATHER CAYGLE


Democratic leaders are zeroing in on a new mantra for their long-promised economic agenda: a "Better Deal."
The rebranding attempt comes as Democrats acknowledge that simply running against President Donald Trump wasn't a winning strategy in 2016 and probably won't work in 2018 either. The slogan, which is still being polled in battleground House districts, aims to convince voters that Democrats have more to offer than the GOP and the self-proclaimed deal-maker in the White House.
But even as Senate Minority Leader Chuck Schumer and House Minority Leader Nancy Pelosi prepare a jobs package centered on infrastructure, trade and the minimum wage, some of their most vulnerable members are making other plans.
Several moderate Democrats facing reelection next year told POLITICO that no matter what leadership does, they're preparing to craft their own pitch to voters. The ideological and political divides that gripped the party during the Hillary Clinton-Bernie Sanders primary wars are far from healed, and leadership may not find universal support for the left-leaning platform, particularly from those trying to defend seats in Trump-friendly states.
"Message has always been a challenge for Democrats, because it tends to get too convoluted and not very simple," Sen. Jon Tester (D-Mont.) said in a recent interview.
"We ought to have a message already," added Tester, a former chief of Senate Democrats' campaign arm who is up for reelection in 2018. "I'm not sure we have a cohesive message. But we've certainly got one for Montana."
Freshman Rep. Lou Correa (D-Calif.), who beat a progressive challenger to win his Orange County seat, which includes Disneyland, also declared his independence from leadership: "If the left and the right are going to have a certain message, I'm going to have my own message," Correa said.

The complete story here > Dems' new pitch to voters: A 'Better Deal'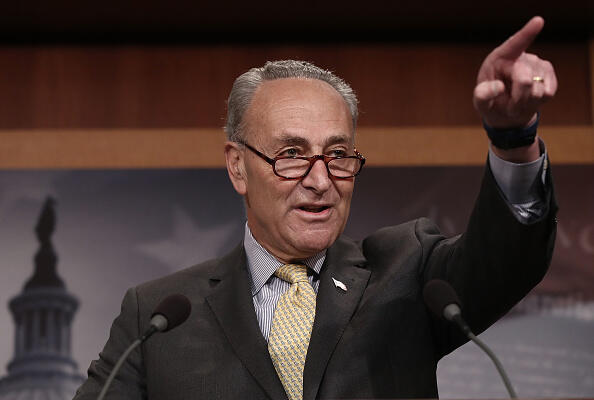 The Jay Weber Show
Jay Weber knows what you want to talk about. His show examines the big issues, trends, and events at all levels -- local, state, and national -- from a strong conservative perspective.
Read more