House Democrats Introduce Bill To Expand Background Checks On Gun Sales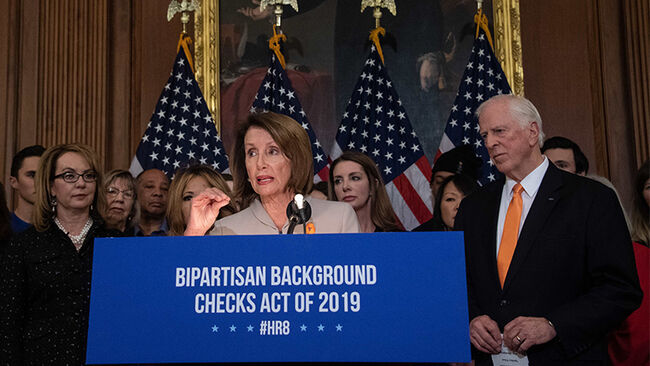 Democrats in the House of Representatives introduced new legislation that would expand background checks to all sales and transfers of firearms. Under the proposed law, all individuals who are not licensed gun dealers must bring their weapons to an authorized vendor who would be able to conduct a background check on the person buying the weapon.
"We say enough is enough by bringing commonsense, bipartisan background check legislation to the floor of the House," House Speaker Nancy Pelosi said.
The law would exempt "a loan or bona fide gift between spouses, between domestic partners, between parents and their children, between siblings, between aunts and uncles and their nieces or nephews or between grandparents and their grandchildren." Members of the military and law enforcement who are acting in their official capacity would also be exempt from the expanded background checks.
A similar bill, called the Background Check Expansion Act, was introduced in the Senate, but it is unlikely to be brought to the floor for a vote.
The bills were announced on the eighth anniversary of a mass shooting in Tucson, Arizona which left former Rep. Gabrielle Giffords seriously injured.
Photo: Getty Images